Gino Mäder, a star is born in Hainan
Time:2018-10-28
Views:617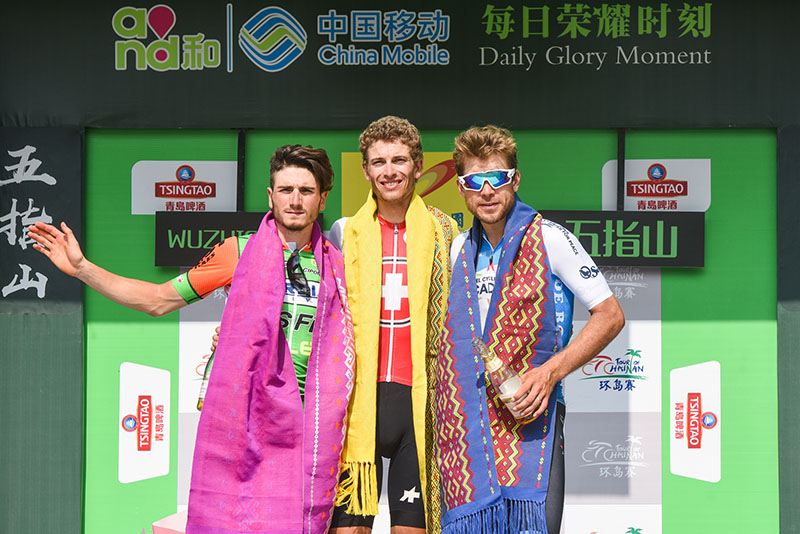 Gino Mäder, a star is born in Hainan
Swiss up and coming climber Gino Mäder made a strong impression as he anticipated the sprint of the front group with a smart attack one kilometre before the end of stage 6 in Wuzhishan. Fifth on the line, green jersey holder Raymond Kreder of Ukyo stepped up to the yellow jersey.
Since the start of the Country Garden Cup 13th Tour of Hainan in Danzhou, experts focused on Mäder who has been the European revelation of the u23 category this summer, especially in the mountainous races. The 21 year old was a stage winner at the Ronde de l'Isard and the Tour d'Alsace before tackling the Tour de l'Avenir where he earned a WorldTour professional contract with Dimension Data after winning two stages in the Alps and finishing third overall, after which he came fourth at the u23 world championship won by his team-mate Marc Hirschi.
He firstly took part in the joyful days of his sprinting team-mate Dylan Page who wore the yellow jersey for three days. He was on the offensive towards the end of stage 6 to Lingshui. He caught the opportunity to solo to victory in Wuzhishan with 1km to go after another attack by his team-mate Gordian Banzer. It was tactically very well played, acknowledged the rival teams in Wuzhishan.
Never before had Mäder won a pro race, so stage 6 of the Country Garden Cup 13th Tour of Hainan will remain famous if the Swiss rider from Niederbipp develops his talent at the highest level of cycling. Second overall behind Kreder who downplayed his possibilities to retain the yellow jersey on stage 8, Mäder became the hot favourite for the overall victory as he's a pure climber on a great shape at the end of the 2018 season.
Quotes of the day: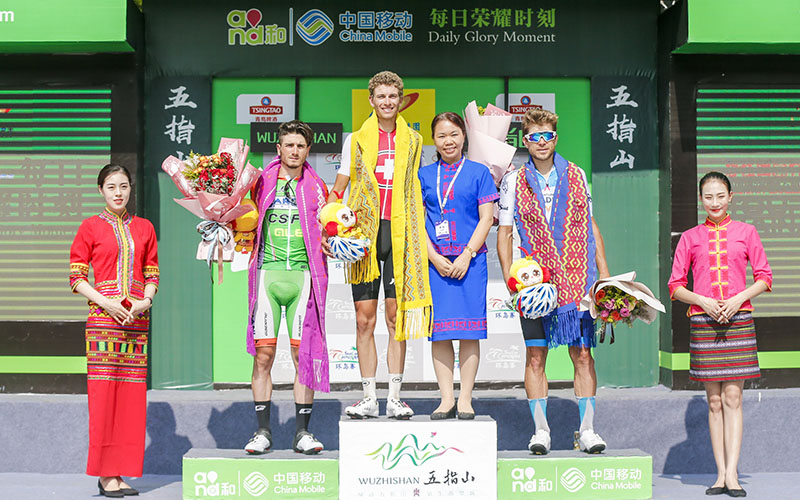 Stage 6 winner Gino Mäder (Swiss national team): "I was told by my team-mates that today's stage was pretty similar to the one I won at the Tour de l'Avenir. So my idea was to go for the stage win. I felt good yesterday but I made a few mistakes in the finale but today was a really good day to attack for the GC and the stage win. After the descent following the last KOM, our group was pretty big with a few good sprinters, including the green jersey [Raymond Kreder]. When I saw an uphill a bit more than 1km before the finishing line, I decided that it was worth a go and I went all in. This is my first experience in Asia on the road. I enjoyed it because people are so joyful. They're happy to see the race. The organisation is really great and the weather is way better than at home. The Tour of Hainan is a great preparation for next year with Dimension Data in the WorldTour. It's been great to have the yellow jersey in the team for three days with Dylan Page who was really smart in the first few days of the race. He enjoyed his time in yellow. But today my team-mates told me to wait for stage 8 to take the yellow jersey, so we don't have to work again at the front of the peloton. I hope I'll really take the yellow jersey at the end of stage 8. I also aim at learning a lot in the next two years. I have the possibility to turn pro with a big team. I expect them to tell me how to race and become better and better. I want to make them proud to have signed me."
Guillaume Boivin (Israel Cycling Academy), second: "I realized that the fast riders like Raymond Kreder of the front group took my wheel about 4km before the end. I was alone so I couldn't jump on every attack. I had to wait for the right moment. Gino [Mäder] did a super finale. I sprinted from far at about 350 metres to try to catch him and contest the stage win. Yesterday, it was disappointing the way it ended up with some breakaway riders who didn't cooperate. I have less regrets today. I play my cards and Gino was smarter and stronger also in the finale."
Lorenzo Rota (Bardiani-CSG), third: "It's been a very competitive stage today again, especially in the finale. Androni controlled the whole race at a steady strong pace. Then it's been a battle in the last 25km. In the last hill, we remained about fifteen riders at the front and we took the downhill flat out. The Swiss rider [Gino Mäder] has been smart in anticipating the sprint 800 metres before the line. I went for the sprint and I'm happy with this third place."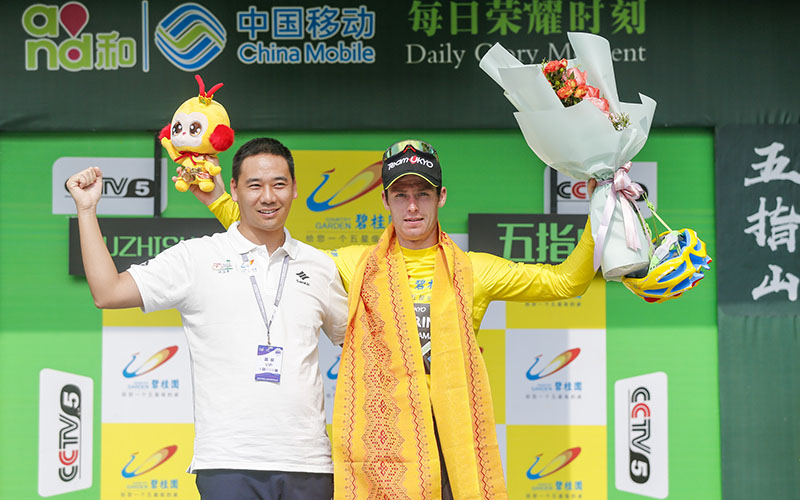 Race leader Raymond Kreder (Ukyo): "I didn't really expect to lead the Tour of Hainan after a mountainous stage but I felt good in the last couple of days. I was always close to a stage victory. I knew I had a possibility to be in yellow today. I did everything I could. 1km before the summit of the last climb, I exploded but I saw a group in front of me and I had to fight to come across. I made it. It'll be a good experience to be in yellow tomorrow. I'm looking forward to start stage 7 with this jersey. I would like stage 8 to be cancelled. I know it'll be too hard for me. I'm not a climber."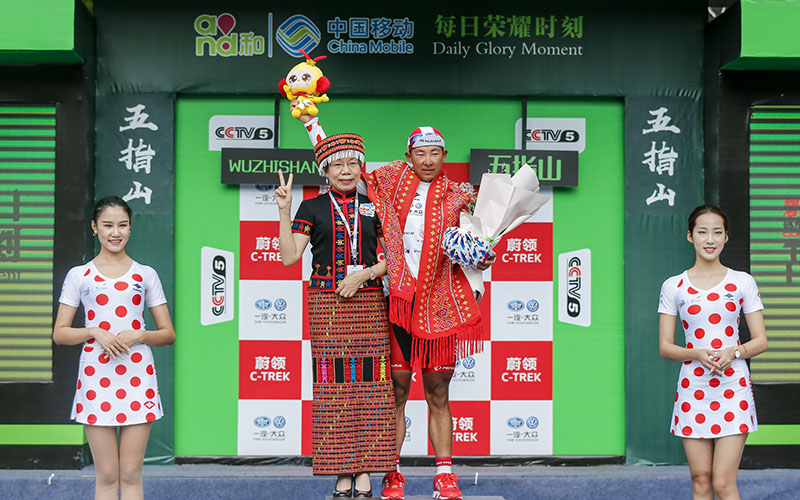 King of the Mountains and best Asian rider Lyu Xinjiang (Hengxiang): "I'm very satisfied with my result today. I'm thankful to my team-mates for helping me to achieve this. I was targeting KOM points but I'm very surprised that I'm also in the blue jersey. The polka dot jersey remains my goal for this Tour of Hainan. I have no experience of road racing so I don't even know the riders I'm racing against here. I'm yet to learn a lot about road cycling but I also want to participate to the Olympic Games and most likely that will be in mountain biking."