Gino Madar flies Swiss flag in Wuzishan
Time:2018-10-28
Views:1533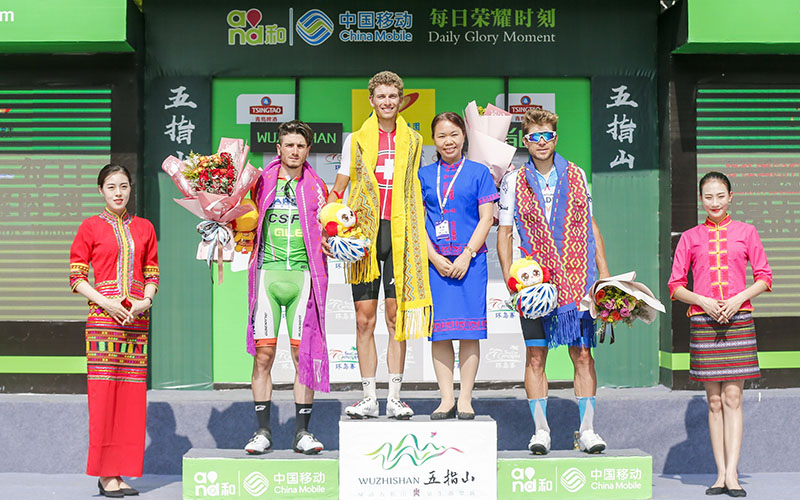 Gino Madar flies Swiss flag in Wuzishan
Gino Madar celebrates his first professional win in the Tour of Hainan today in Wuzishan thanks to an attack in the mountain stage.
Madar shot free on the final kick at two kilometres remaining and kept his rivals just behind when coming into the stage five finish line. The HC-ranked win counts as his first professional win after winning two prestigious stages in the amateur Tour de L'Avenir this summer.
Guillaume Boivin (Israel Cycling Academy) placed second and Lorenzo Rota (Bardiani-CSF) third.
"It was the queen stage last year too, and three of my team-mates were here then," Madar said. "They told me the uphill wasn't so hard and it's an easy downhill.
"I thought, in the sprint I will not win against Kreder and Boivin, so I went for an attack. I knew if I passed over the mountain, well, I could go over the stage win and get some bonus seconds. I was thinking for the GC and then doing the best possible for the day."
The GC or overall leader's yellow jersey moved to Raymond Kreder (Team Ukyo). He leads by seven seconds over Madar.
The stage travelled 193.2 kilometres from Lingshui to Wuzishan. In the early moments, riders attacked to move free, but in the back of everyone's mind was the final Atuoling climb and 12km descent to the finish.
Eight cyclists moved free at six kilometres into the race. Three of those riders jumped free: Gatis Smukulis (Delko Marseille Provence KTM), Itamar Einhorn (Israel Cycling Academy) and Stefan Bissegger (Swiss Cycling). After 25km, they led with 1-54 minutes.
The three held 6-01 at the bottom of the day's final climb. Smukulis moved free on the climb, the others faded. Behind, the other riders started to attack and position themselves. Team Androni noticeably took charge.
"I knew I had the possibility to be in yellow and take points for the green jersey," Kreder said.
"I pushed hard on the climb, but with one kilometre to go, I exploded. On the top, I was maybe 30 seconds behind and my downhill skills are not bad. I went full gas on the descent, but I didn't have any power left in the sprint. I
"I'm happy to now be in yellow for tomorrow, it's a good experience, finally after 5 days, I have it."
Madar's move came from a group of around 10 cyclists. With the win, he gained bonus seconds that puts him in second overall and within seven seconds of Kreder. In stage eight, he will be within reach of the lead and possible final win at the end of stage nine.
"I was always close to a stage victory," Kreder said. Today, I had a chance to be in yellow, I did all I could.
"I hope that the organiser cancels stage eight, it'd be better for me. I'm not a climber, but a sprinter. I wanted to try to win and go for yellow, I made it. But stage eight is going to be too hard for me.
"Kreder has the jersey," Madar said. "I think the next mountain will be too hard for him. There are a few good climbers in the group, but I think I'm amongst the best five, so of course, I'm going to try to go for the jersey and GC."
Stage seven travels to Sanya and should produce another sprint winner. Madar will have his eyes on stage eight, which finishes with a climb to Changjiang.
END