Guardini wins first in Hainan
Time:2018-10-26
Views:1029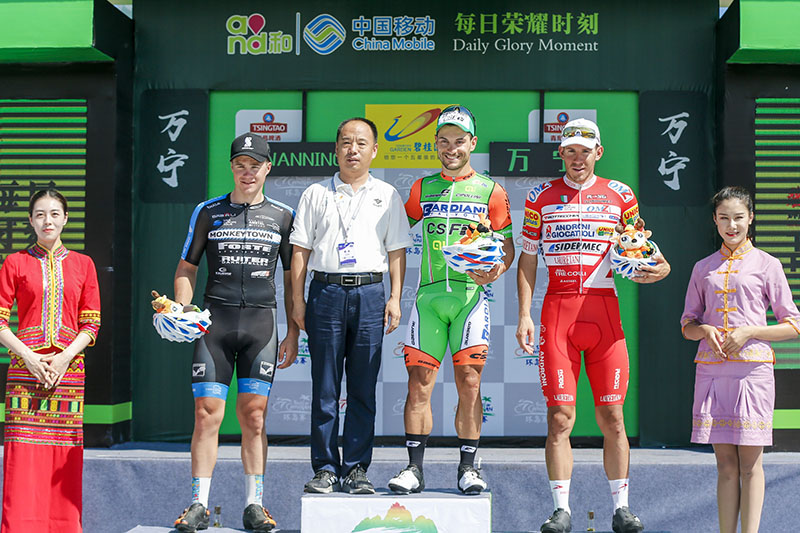 Guardini wins first in Hainan
Andrea Guardini (Bardiani-CSF) won all over Asia, but never in the Tour of Hainan – until today. The Italian sprinter raised his arms in Wanning, at the end of the 142km stage four, to celebrate his success.
The powerful Italian placed ahead of Davide Ballerini (Androni Giocattoli-Sidermec) and Andre Looij (Monkey Town). Dylan Page (Swiss) kept the overall leader's yellow jersey.
"After yesterday, I slept poorly thinking about the stage," Guardini said. "I thought about the final 200 metres, where I messed up. The team even worked more yesterday, so for that reason, I'm sorry about not winning.
"Today was payback for yesterday. I had to win today for them."
He was the fourth different winner in four days.
"These stages are hard fought," Guardini added. "It's never a given who's going to win. Tomorrow, we could even see a different result."
Stage four travelled from Qionghai to Wanning. An escape went from the gun. With 60 kilometres to race, Zhang Zheng (Hengxiang), Niu Yikui (Mitchelton-BikeExchange), and Gu Bingcheng (Giant) had around three minutes.
Bardiani controlled the gap for Guardini and the eventual sprint. With 10km, it was down to about on minute. The Chinese national champion Yikui fought on but could not survive. It was a big win for Bardiani.
"It's big for us given that we have CST as a sponsor, a Chinese sponsor, who holds this race dearly," said Bardiani sports director Stefano Zanatta.
"We came here to win for them, and we got that today. We want to continue in this way."
"It's the first time I'm here, been three years I've been thinking about racing in Hainan," Guardini said.
"I always thought of it, and now I'm happy to be here. This island is truly a gem, to find out that China has these beautiful spaces."
Page remained in the yellow jersey, but wants to win a stage.
"I had to spend a lot of energy ahead of the sprint to get my position," said the Swiss. "With Fabian we fought to get back. I spent too much, I waited too much to start my sprint and I was blocked. I don't have the power to jump again afterwards, that's it.
"Confident the win will come? Yeah, for sure, I feel already for the sprint today that I spent energy. It's going to be hard, I'm going to try hard, I'm going try my best until the last stage. If everything goes well, I'll get it. I'm going to try my best, for sure."
END