Manuel Belletti, a third different sprint winner
Time:2018-10-26
Views:646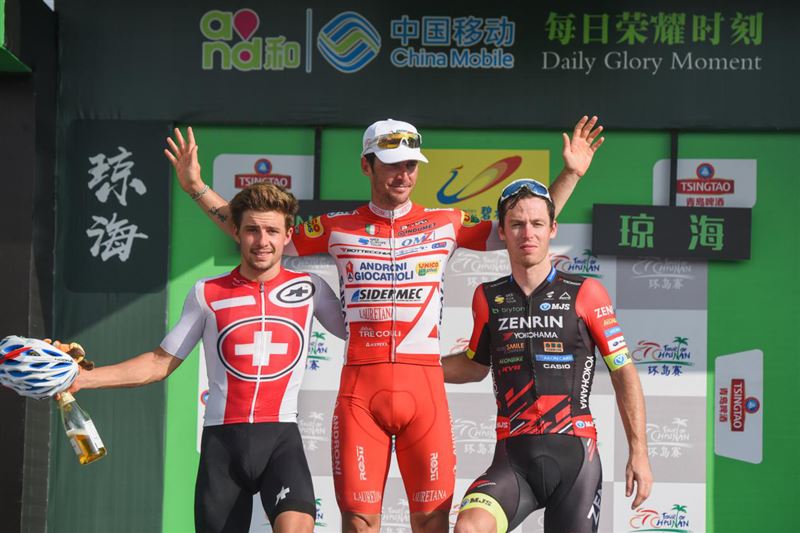 Manuel Belletti, a third different sprint winner
Italy's Manuel Belletti of Androni Giocattoli-Sidermec claimed stage 3 of the Country Garden Cup 13th Tour of Hainan, making it a third different winner in as many bunch sprints but they were very different kind of stages indeed. Third on the line, Swiss rider Dylan Page retained the yellow jersey for the second day.
Belletti is a rider of a WorldTour calibre who previously rode for AG2R-La Mondiale and participated to the Giro d'Italia eight times and bagged a stage victory. He's part of the Androni Giocattoli-Sidermec team that came to the Tour of Hainan with a very solid and motivated line up, including three possibilities to target bunch sprint victories, the other two besides Belletti being Marco Benfatto who finished sixth in Qionghai and Davide Ballerini who has worked as a very efficient lead out man this time before transferring to Astana next year.
Belletti explained precisely why three bunch sprints finishes have produced three different winners so far as they came at the end of races of very different technical characteristics. Being a strong and experienced rider, the Italian took the advantage of stage 3 being long and demanding because of the heat. But it was another tight and thrilling finale.
Earlier on, six riders opened the road from km 15 onwards: Wang Bo (Hengxiang), Tyler Williams (Israel Cycling Academy), Jiang Zhihui (Mitchelton-Scott), Kohei Uchima (Nippo-Vini Fantini), Sam Brand (Novo Nordisk) and Amirul Marzuki (Terengganu TSG). Their maximum advantage was seven minutes but the Swiss national team brought it down and stabilized it around five minutes. Jiang was the first escapee to get dropped. Wang was the second one with 40km remaining. Marzuki won one intermediate sprint and came second the two other times, which enabled him to take the lead in the Asian competition.
With 39km to go, Williams soloed at the front while his breakaway companions surrendered one by one. Bardiani CSF, riding for Andrea Guardini, was the most determined of the sprinters' teams. They caught Williams within 10km to go. Many sprinters went for it and it was another very tight victory for Belletti who didn't celebrate until he was officially noticed of having crossed the line first.
Quotes of the day:
Stage 3 winner Manuel Belletti (Androni Giocattoli-Sidermec): "It's been a very demanding race because of the heat and the length. 231km at this time of the year after some races in Italy where the temperature was much lower, it hasn't been easy. My team was great. They kept me at the front. Davide Ballerini has been super to take me out of the mix. I launched my sprint 225 meters before the line. The legs weren't super, super, but I managed to resist to the other sprinters. It's great for the morale. We came here with a good team with the aim of winning some stages and riding GC with Fausto Masnada. We've had three sprint finishes so far and three different winners because the three stages have had very different characteristics. Stage 1 was really short and suitable for very explosive riders like Jakub Mareczko. Stage 2 was a slightly uphill finale in which it was extremely difficult to decide where to launch the sprint and we couldn't do it because until the very end we had the uncertainty of Masnada staying away for the victory or not and in fact, other sprinters passed us. Today, it was long and hot, good legs and a great team were needed. It's not a coincidence that we have three different stage winners."
Runner up Raymond Kreder (Ukyo): "With 600 metres to go, I hit the rider in front of me and I broke a spoke, otherwise I would have won. My legs are good but with this mechanical problem, I missed out on the stage win. I had the perfect timing and the perfect position with 200 metres to go, but because of this problem, I couldn't pass the eventual winner. The heat was terrible today. I used a lot of ice socks on my neck. It was a long day of eating and drinking and getting ready for the sprint."
Third placed and race leader Dylan Page (Swiss national team): "Today, I'm clearly disappointed, even more than yesterday. We could have defended the yellow jersey or not but we decided to assume our responsibilities. We keep it. It's a consolation price that shows that we've been consistent since stage 1 but the goal is to win a stage and I know that I'm able to do it. It was very long to control for 231km, it burned two or three of my team-mates. They all gave it all and they were still up there in the finale. For them, I would have liked to win. It's really not far. It's annoying but I retain the yellow jersey and there are two or three more opportunities left. I haven't said my last word yet."
Most active rider Tyler Williams: "After the last intermediate sprint, we were kind of messing around before so we were not gonna make it. The only chance was if I go alone, otherwise you're playing games the whole time. On a 230k flat stage, I thought you might as well give it a proper go. I tried by myself, then I started riding some tempo. I definitely knew it was unlikely that I'd win but I had to try."